People from the village
During the First World War and the Second World War many men and women gave the ultimate sacrifice either at home or on the front line. We have to recognise some of these individuals in one way or another so please send me information. The following is a list of men who gave the ultimate sacrifice and are honoured in black marble on the wall in the Workmens Club.
---
There are two Robert Cowies in the Commonweath War Graves Commission database. The one above is Robert Cowie residing in Wheatley Hill at the time of his death. The second Robert Cowie was from Wheatley Hill but living in Station Town at the time of his death.
---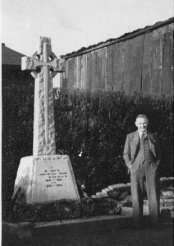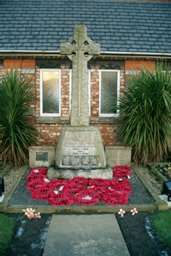 Above is the memorial to the men who lost their lives in the Second World War. The picture on the left shows the memorial in its original location in the Welfare grounds (Don Armstrong's father is shown on the photograph and it gives the relative size of the memorial). The following are the names on the plaques mounted on the memorial.
Left plaque (not on cross)
GNR. K.WILLIAMS
On cross 1939 -1945 IN PROUD MEMORY OF
Left side:-
A.B. SEAMAN. HUTLER J. GUARDSMAN. LEE H.
PTE. HUMES W. 1st CL STO. LOWTHER H.
1st CL STO. HOWE J. A.C.I. LONSDALE J.
SGT. HICKS N. SUB. DET. ROBINSON P.
GNR. JONES J. P/O. SMITH W.
GNR. JONES E. S.P.O. SIMPSON J.
SGT. SCOTT PTE. CHAYTOR T.
Right side:-
SGT. ATKINSON J. L.A.C.CARR F.
FLT. SGT. ATKINSON G.A. F/O ENGLISH W.
1st CL. STO. BURNSIDE J. L/STO. EDDY W.
PTE. BEETON S. L/SGT. FLETCHER E.
L/CPL. BROWN G. A. BOY (RN) GIBSON G.
PTE. BROWNE J.A. GNR. GRADY M.
SGT. BULGER K. A.B. SEAMAN GREENER G.
---
The Durham Mining Museum has a web page about Wheatley Hill Colliery and includes the names of men who were killed at the colliery.
---
I have also included the following individuals that I am aware of :-
Dr Edwin "Finn" Haddock
Dr Haddock who was born and educated in Wheatley Hill. Died in January 1996 aged 73 and is buried in Grimsby.
The life of the Typhoon pilot who later became a doctor in Grimsby. has been chronicled in an exhibition prepared by the Wheatley Hill History Club.
His sister. Mrs. Lucille Harding, of Ashmore Terrace. Wheatley Hill. explained.'" He experienced more adventure in those two years during the war than many people could possibly imagine - he was a truly remarkable man."
His exploits began in training when he looped the loop over his home village where his mother. Lucy Hutton. owned the local shop.
In July 1943. when on a mission to destroy a German airfield, he was shot down over northern France.
The young RAF pilot managed to parachute to safety and was picked up by the French Resistance.
While on the run he joined a band of the resistance carrying out missions in France.
It was on one such operation to pick up arms sent from London that luck ran out for the young pilot turned resistance fighter.
The Germans had a tip-off and surrounded the Chateau de la Roche in northern France where
the band was staying.
In his possession Flying officer Haddock had a map of all the Ger­man V1 rocket bases in northern France - more than enough to get him shot.
Moments before being handed over to the Gestapo the quick thinking pilot destroyed the evidence.
He was taken to the Tours Prison where he was subjected to hideous beatings and torture.
The Gestapo demanded to know the names of those involved in the resistance. Despite 99 days of ruthless torture he did not crack.
The Gestapo finally gave up on him and sent him to the prison camp Stalag Luft III site of the famous Great Escape - later to be immortalised in film.
At the end of the war he was forced to flee the Russians who refused to hand over the camp's prisoners to the Americans.
Back in this country he trained in Newcastle as a doctor eventually becoming a Grimsby GP.
He made regular pilgrimages to France to visit the many families who risked their lives to help him during the war.
Dr Haddock's wartime memories live on in his acclaimed paint­ings which are now in collections throughout the world.
From an article in The Mail(26th September 1996)
---
Victor Clarence Brown - Tank Corp during war. Became school teacher.
---
Thomas Kenny V.C. - more information later
---
George Hinds
Fought in Burma with General Windgates Chindits and was awarded the Burma Star. This was Awarded for one day or more of operational service during the Burma campaign, between 11 December 1941 and 02 September 1945.
---
William Hinds
He served during the 2nd World War as a Dispatch Rider on a Motor Bike in Great Britain. Motor Cycles were always his passion. Unfortunately while on night duties during the War he was involved in a nasty road accident and spent many months in hospital - particularly with severe leg injuries from which he never fully recovered and carried a limp for the rest of his life.
---
John Etherington
Born: Trimdon Grange
Educated: A. J. Dawson Grammar School, Kirk Teachers' Training College, Graduated Open University
Served R.A.F. August 1939 - March, 1946.Stationed in Western Canada from 1942-43.
Taught at Wheatley Hill Modern Schools from 1947 - 1970. Head of Religious Education Department A.J.Dawson Grammar School 1970 -1978.
Has contributed to 'The Guardian', 'The Countryman', 'Heritage', 'Northern Echo', 'Hartlepool Mail' among many publications.
Has broadcast on Radio 4 and local radio. 'Hutton Henry: The Story of a Village'.
Ex-Chairman Hutton Henry and District Community Association.
President Trimdons Local History Society.
Licensed Reader Church of England.
Governor Hutton Henry C.of E. Controlled Infant and Junior School.
---
Eddie Hopkins Born in Wheatley Hill and played football for Bolton Wanderers and England.

Eddie Hopkinson
Last Updated:

11:08pm BST

30/04/2004
Eddie Hopkinson, who died on Sunday aged 68, was England's first-choice goalkeeper in the late 1950s; he also made a record number of appearances for Bolton Wanderers, and in 1958 helped them to a famous and controversial victory in the FA Cup Final.
Their opponents at Wembley were Manchester United, who had lost a number of players in the air disaster at Munich a few months earlier. Riding a wave of public sympathy, United - led by Bobby Charlton - had overcome the odds to reach the Final with a team largely made up of squad players and loan signings, and they carried the hopes of most neutral supporters. These were upset as early as the third minute, when Nat Lofthouse scored; Bolton were determined to atone for their loss to Blackpool in the "Matthews match" five years before.
Hopkinson came nearest to conceding a goal when, early in the second half, a shot by Charlton cannoned off the post, only to bounce into the goalkeeper's hands. From the restart, Bolton raced away to pressurise Hopkinson's counterpart, Harry Gregg, who parried a shot only to be bundled into the net by Lofthouse in the act of gathering it. Despite protests, the goal was given and the cup was Bolton's. Hopkinson duly collected his winner's medal. At 5ft 9ins he was, perhaps, the shortest goalkeeper ever to do so.
Edward Hopkinson was born at Wheatley Hill, County Durham, on October 29 1935. As a boy growing up in Lancashire he was a useful cricketer, and began his footballing career in midfield before his natural agility prompted him to take up the gloves. He was selected for Lancashire Schools and, aged 16, he played three games in the Third Division North for Oldham Athletic as an amateur in the 1951-52 season, before signing for Bolton and turning professional.
For some years he had to content himself with reserve matches; but, after National Service with the RAF, he got his break in 1956 when Lancashire Cricket Club felt unable to release Ken Grieves, their wicket-keeper and Bolton's goalkeeper, for the start of the soccer season. Hopkinson made his debut against Blackpool. His talent was quickly noticed, and he won six Under-23 caps before making his full international debut for England against Wales in a 4-0 victory in Cardiff in 1957.
He kept his place for another five matches, but just before the World Cup in Sweden in 1958, England were thrashed 5-0 by Yugoslavia in Belgrade (a reminder that England was, even then, not the force at international level that is sometimes imagined). Hopkinson lost his place to Colin Macdonald, and, though he travelled to Sweden with the squad, did not play in any of their four matches.
He was recalled to the side the next year, following an injury to Macdonald, playing against Brazil and Italy. He eventually won 14 caps before again taking the blame for a 3-2 defeat by World Cup finalists Sweden at Wembley in 1960. Thereafter, the selectors preferred Ron Springett of Sheffield Wednesday, and, at 24, Hopkinson's international career was over.
Nonetheless, he continued to prosper with Bolton, who twice finished in the top six in the late 1950s. Much of this success was due to Hopkinson's bravery in goal: he was noted for his skill in one-on-one situations with strikers, spreading himself only at the last moment in a star shape to maximise his chances of deflecting any shot.
From the early 1960s, Bolton began to wane as a force, and in 1964 they were relegated. Hopkinson remained with them in the Second Division until injury forced him to retire in 1969. He had made a record 519 league appearances for the Trotters.
For some years afterwards he coached at the club, although in 1974 he moved to Stockport - where his son Paul was the goalkeeper - as assistant manager. The next season he spent three weeks in charge of the side, but then returned to Bolton as a trainer before taking a job with a chemicals firm.
Eddie Hopkinson is survived by his wife and by their son and daughter.
---
---
John Wilson M.P. - later
---
Teddy Caine - (Article by Margaret Hedley)
Teddy Cain was born in Seaham Harbour of an Irish Catholic father and a Protestant mother. His family, like many mining families of the time, moved from pit to pit for the promise of more money or better living conditions.
Ted reluctantly began work at Philadelphia Colliery, Houghton in 1905 but unfortunately that was the only method open to him of earning a living and he knew that he was stuck with it.
In 1908 he went to work at Shotton Colliery, and whilst there he became involved in the work of the Durham Miners' Association and the Independent Labour Party.
In 1911 he moved from Shotton to work at Wheatley Hill colliery – living in Wingate. He often described himself as a rebel, and this was demonstrated when he decided to stop having the one shilling a week deducted from his pay note for the local Priest! Whilst we may see this as a minor rebellion today, in 1911 it would have had huge repercussions from the Church.
At the outbreak of War in 1914, Ted joined the Royal Garrison Artillery but was discharged after contracting rheumatic fever.
Through hard work and determination, he continued his education at night classes, and passed an examination to become deputy overman. In 1922 he was appointed Chairman of Wheatley Hill Miners Lodge - a post he held until 1930.
During the 1926 strike, the coal owners saw Teddy Cain as an agitator and refused to re-employ him at the pit when the strike was over. He and his family were also evicted from their colliery house, however a council owned house was made available to them.
The work ban was total. No colliery would employ him. He was on the 'dole' for 18 weeks and during this time dug a footpath beside the Gassy Gutter to Thornley and another footpath along Quarry Road. This was the only work he had between 1926 and 1930. His coal mining days were over. In 1930 he obtained employment as a clerk in the Wingate Labour Exchange until 1934.
In 1934 Teddy returned to Wheatley Hill as Checkweighman, working alongside Will Lawther. The partnership didn't work as Lawther was resentful of the local mans' popularity. Also in 1934 Ted was elected to Easington District Council and was instrumental in forming the Labour Party in East Durham along with Peter Lee, George Bloomfield and Jack Lawson. In 1950 Ted was sent by the Labour Government of the time, to Nigeria to advise on labour conditions.
Among his other commitments Teddy Cain was a Governor at Wellfield School, a member of the Durham Miners' Executive Council, a delegate in 1929 for the Miners International Congress in Cracow, Poland, Chairman of the Aged Miners Homes Executive(serving 54 years on the committee) and a Justice of the Peace. While on the Aged Miners Home committee could not afford(£5) to pay for a cement block with his name on to be placed in front of each Aged Miners Home because he didn't have the money at that time. Was also the local organiser for the Soldiers, Sailors and Airmen's Families Association from 1956 to 1977. As a result of his public work he was awarded an MBE in 1967.
Apart from his involvement in council and colliery activities, Teddy Cain was also a self-taught violinist and had an appreciation for opera music later in his life. He was also an authority on the poems of Robert Burns.
---
Eddie Carr
CARR Edwin Miller
Born. Wheatley Hill 3.10.17 Died. Huddersfield 6.98
Edwin Miller CARR
A centre-forward, Edwin was spotted playing for Margate when he was signed by Arsenal in May 1935. He finished on the winning side on his debut against Manchester City in the 1st Division at Maine Road in February 1938. Although he did not score that day, he went on to be something of a good luck charm for the Gunners that season. He played in 11 League games, scored 7 goals and never finished on the losing side. In the four matches that he missed during this spell the Gunners lost three and drew one!
Arsenal won the Championship that season but Carr had not played enough games to qualify for a medal, despite his great contribution.The following season, he played just once for the team in a 1-2 defeat at home to Everton. He scored in his only wartime appearance for the Gunners and guested for Bradford P.A. (51 goals in 89 appearances), Newcastle United (29 goals in 39 appearances) and Darlington (2 apps, no goals). He signed for Huddersfield Town in 1945 and scored 18 goals in 33 wartime matches for the club but he managed just 2 League appearances, without scoring, for the club when normal football resumed.
In October 1946 he joined Newport County and scored 48 goals in 98 League plus 6 in 7 F.A. Cup appearances. Bradford City signed him for a four-figure fee in October 1949 and he gave them a fine return with 49 goals in 94 League games and 7 in 5 F.A. Cup.
In August 1953 he signed for Darlington and scored 7 goals in 53 League appearances before becoming trainer in July 1954. He stayed in that role until June 1960 when he was appointed caretaker manager a position that was made permanent five months later. He had an eventful start as manager at Feethams with the opening of floodlights, followed by a fire burning down the West Stand.
Successes were rare at Darlington although the club did beat West Ham 3-2 in the League Cup. After a 10-0 defeat by Doncaster and an F.A. Cup defeat against non-League Gateshead, Carr was sacked as manager in 1964. He had a five year spell as manager of Tow Law Town from 1964 to 1969 and led them to a fine 5-1 victory over Mansfield Town in 1967 before the club's (still) record crowd of 5,500. That season was the first time ever that the club had progressed to the first round of the F.A. Cup proper and they went on to hold Shrewsbury to a 1-1 draw before losing the replay 2-6. The following season the club reached the F.A. Cup proper once again, something they have managed just twice since but 1967/8 remains there best ever F.A. Cup season.
In 1969 Carr left Tow Law Town to become a scout for Newcastle United.
---
Edward Alderton
From a Newspaper article by Vivienne Cooling on the life of Edward Alderton
A man who set thousands on the road to a better future by leading the way in adult education has died.
Edward Alderton, whose achievements were commemorated with a Bexleyheath theatre being named after him; had a heart attack while attending the last NALGO conference in Brighton recently. He was 76.
He had lived to see the union merge with two other public service unions, COHSE and NUPE to become Unison.
The ninth son of a poor mining family, who traveled down south from his Northumberland roots. Edward Alderton never forgot his tough childhood.
Described by friends as a very popular, gregarious man who lived life to the full, Mr. Alderton began his links with adult education while an RAF prisoner of war in Colditz.
He established correspondence courses for fellow prisoners and helped many of them achieve several degrees while in captivity.
On his release, Mr. Alderton joined the then Kent County Council becoming the first principal of its Bexley adult education facility in 1948.
He was largely responsible for developing what exists today with 200 courses and 3,000 enrolments this year alone.
He retired 11 years ago but stayed on in the cottage adjoining the Brampton Road centre where he had lived for a number of years.
Mr. Alderton was also one of the stalwarts of the NALGO union, being its National President in 1978.
Also a former NALGO president and long-time friend of Mr. Alderton, Ron Hill described how he was instrumental in the union's educational provisions for its members, encouraging many to go on to University and college.
Mr. Hill said; " He was a powerful performer, held in high esteem. A well-educated, well-spoken man who was a great raconteur and communicator."
"He was a gregarious character who loved life and was held in great esteem. He will be very much missed."
He revealed one of the great tragedies in his life was the death of his only son at the age of 10. "It was something he never got over and the sadness stayed with him all his life," Mr. Hill said.
Mr. Alderton, a widower, was also a Bexley Justice of the Peace for 20 years and a member of the Employment Appeals Tribunal.
He was a prominent Rotarian, who over his 40-year membership, worked for charity and sat on the organisation's Foundation Committee, which is responsible among other things, for overseas projects and exchange visits.
Bexley Rotary secretary Roger Hewitt said, "He was one of the senior statesmen of Rotary. He celebrated his 40th anniversary last year."
"His wit and his tremendous speaking ability were his main features. He was a character whose wisdom and communication skills will be greatly missed."
Mr. Alderton's funeral will be at Eltham Crematorium, Crown Woods Way on Monday at 3pm. Instead of floral tributes, it has been requested donations are made to Rotary charities.
---
Leslie Barker
From a Newspaper article at the time of his death
400 mourn SAS hero at funeral
Armed plainclothes police surrounded a church yesterday for the funeral of a North-East SAS soldier who was a hero of the Iranian Embassy drama last year.
About 400 mourners packed St. Martin's Church, Hereford, a mile from SAS headquarters, for the funeral of 34-year-old Sgt. Leslie Barker, from Wheatley Hill, County Durham. The mourners were searched as they arrived.
The Ministry of Defence said that he was killed last week-end when his parachute failed to open while on a training exercise in Oman.
The church was the scene five years ago of Sgt. Barker's marriage.
His widow, Caroline, who has a three-year-old son, Stevie, and is expecting their second child, dropped a single red rose on to her husband's coffin.
Sgt. Barker's parents, Leslie and June Barker, of Wheatley Terrace, Wheatley Hill, travelled with other members of the family from the village for the service.
They heard an SAS sergeant speak of the dedication to duty of his colleague but there was no mention of his part in ending the embassy siege.
Because of the secrecy which surrounds operations by the crack 22 Special Air Services Regiment, Sgt. Barker's name and his role in freeing the embassy hostages would not have been disclosed but for his death.
Millions of television viewers saw him and another colleague hurl a grenade through and embassy window before bursting in with guns blazing to kill all but one of the terrorists inside.
Six SAS colleagues bore Sgt. Barker's coffin to his grave, which was surrounded by 150 wreaths including a centrepiece in red, white and blue flowers, of the famous winged dagger emblem of the SAS.
The Rev. John Boulch, Rural Dean of Hereford, and chaplain to the SAS told the congregation: "He was a good man and a brave man and I thank God for him and for men like him."
St. Martin's has become the "parish church" of the SAS and has a special area of the churchyard reserved for the 18 SAS men who are buried there.
Sgt. Barker had been a member of the SAS for 10 years, joining from the Royal Engineers.
The SAS have been involved in anti-terrorist operations in Oman since the early 1970s, when they were called in to help put down a rebellion against the pro-West regime of the Sultan.
Just a follow up to this article. A book was published called 'The Shooting Gallery' by Gaz Hunter details the accident and describes the authors association with Les. John Orchard was kind enough to send on the relevant section dealing with Les and the following photographs of the clock at Hereford.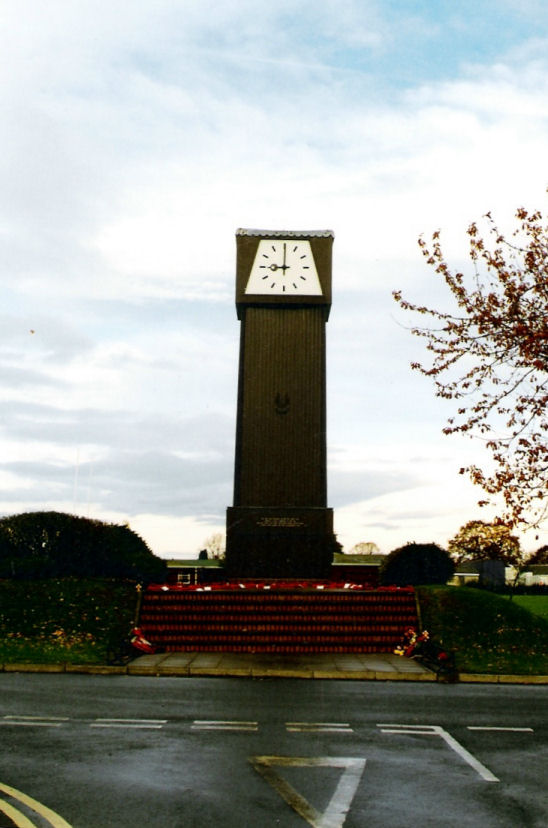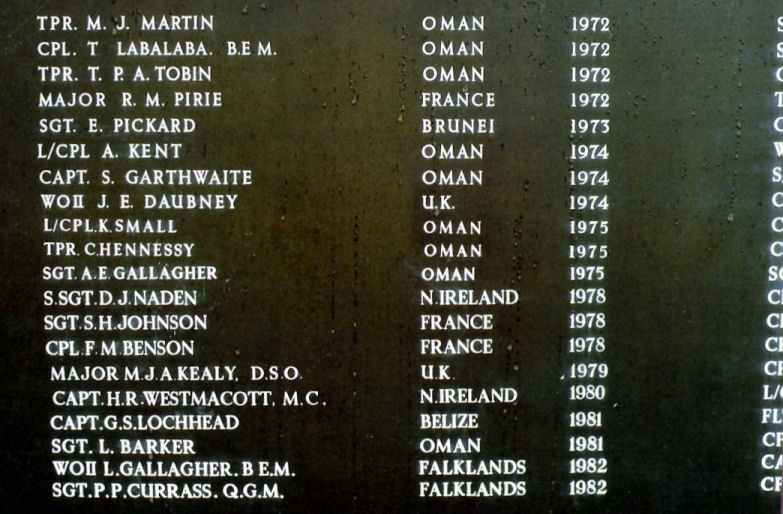 Received this photograph from John Orchard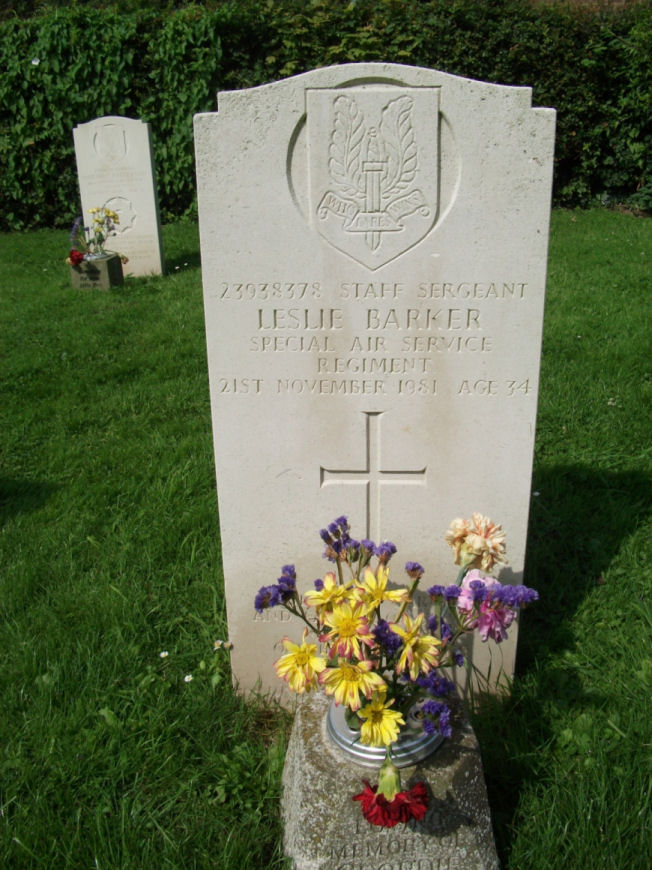 ---
Harry Peacock - colliery blacksmith, was Quoits champion of England in the 1920's and 1930's.
---
Pat Gorman - a classic bantamweight was at one time world rated. He narrowly missed the British title being beaten by Johnny King in the Northern final eliminator, King later became champion.
---
Charlie Curry - tutored by Pat Gorman who developed into one of the country's leading featherweights. He was beaten by British Champion, Ronnie James of Wales.
---
Johnny Curry - brother of Charlie and also tutored by Pat Gorman.
---
Lewis Stoker - played football for Birmingham.
---
Fred Peart - was a strong hard-tackling wing half, and in the 1930's, had hopes of becoming a professional player. He would have probably succeeded in his ambition too, as the team was constantly under the surveillance of League Scouts. However, at this same period, Fred was attending Henry Smith School, Hartlepool, where the headmaster was that dominant personality , John Moore. Mr. Moore had decreed that school teams must always take first priority and no-one, not even a prospective Cabinet Minister ever thought, or dared to question any of this headmaster's rulings.
Fred never a lad to hide his light under a bushel, had already made a name for himself as a rugby forward - he was capped for Durham Public Schools. Consequently each Saturday morning found him playing a hard game of rugger, usually under the eagle eye of his headmaster. This was invariably followed by a mad dash to some distant soccer field in readiness for an afternoon game.
The soccer critics declared Fred Peart to be a little on the slow side, and prone to tire in the last 15 minutes. They were probably right.
---
Eric Hutton - Fighter pilot during war, crashed in France and became a doctor after the war, was Lucy Hutton's brother.
---
George Atkinson - Pathfinders (Bomber group) during the war.
---
W. English - Pathfinders (Bomber group) during war.
---
Billy Middleton
Billy Middleton's real claim to fame was winning the famous Morpeth to Newcastle Road Race on 1st January 1938. Though it was Bill's first go at the "Morpeth" he won by a commanding 1 min.20s., in 1hr.13min.16s, the second fastest time in the 33 years history of the race.
Prior to this Bill had just won an NYSD league cross-country from the Darlington "crack" runner WC Wylie and despite hopes of a win in the North Eastern Cross-Country Championships a couple of weeks after the Morpeth, Bill seemed to suffer a loss of form and had a very disappointing run. Probably the fatigue from that magnificent New Years Day race was still in his legs.
Bill Middleton was born in Wingate on 10th April 1910 but lived his life mostly in Wheatley Hill. He tragically died at the age of 41 after an illness that lasted for over 2 years. A wrist injury brought on TB and despite treatment and trying to keep fit by riding his bike.
He died at 4 Luke Terrace, Wheatley Hill on 19th July 1951. During his life, Bill was an incredible runner, who produced some amazing performances and even before joining Burn Road Harriers, he was an outstanding local runner.
His family tell the story of how, when he was 17, he ran in a 6 mile race, through Wingate and Castle Eden. He covered the course in 31 minutes and the only person at the finish line, outside the Fir Tree Inn at Wingate, was his sister.
The race officials all sitting in the Fir Tree, wouldn't accept the time, as they thought it couldn't be done. Billy wouldn't accept the prize. Next year he went back and did it again, this time he did accept the prize, of a box of groceries, or a sack of potatoes.
Billy joined Burn Road Harriers in 1930 aged 20 years, but despite being an obviously talented athlete, was not made very welcome by the West Hartlepool "Townies", as he only came from a pit village.
He soon became one of the club's star runners. One of his first major successes, was in a novices race, held at Stamford Bridge and promoted by the News of the World newspaper, on the 31st May 1932.
The winners medal is still proudly held by his family.
Their proudest possession, of course, is his gold medal and the photograph of him with North Mail Challenge Cup for winning the famous Morpeth to Newcastle road race on 1st January 1938. Though then 28 years old, it was probably the coming war that robbed him of international honours.
During the war, Billy served with the Royal Signals, serving in France and Belgium but the end of the war brought more important things to see to than running as families rebuilt their lives. A bricklayer by trade, Billy was also a talented pianist, playing with local bands in the area. His wrist injury put paid to both careers and eventually to the death of this great distance runner. Billy's prowess was highly regarded in the area especially after his outstanding "Morpeth" win and many are the stories that tell of his running barefoot, including one track race on cinders, when he finished with both feet cut and bleeding.
(Submitted by Kenny Johnson)
---
The Baldasera family have their roots in Italy but have been in Wheatley Hill/Thornley/Shotton for nearly a century. I am working on a Biography of the family for the web page with Trish Young who has sent me some photographs of the family. Attached are a couple that I received from Allan Fulcher who's cousin Margaret married Fred Baldasera, son of Sabadino about 15 years ago.
---
George Poulson RAMC
George Poulson and he was born and brought up in Wheatley Hill in Anne Street and Wolmerhausen street. He was called up in 1940 and sent to serve with the RAMC and eventually sailed to India via the Gold Coast and Capetown.From there he went to Singapore and was there when it fell to the Japanese. He was on a hospital ship converted from a flat bottomed Chinese river boat which was affectionately called
The Chop Suey
by the crew.When the attacks started the ship took on board as many sick and wounded as it could and set sail from Singapore harbour. It was fired upon and blown from the water twice but each time stayed afloat. They reached Sumatra and then Java where they tried to stock up with water and food before escaping once more. They sailed towards India on a boat which was really only suitable for rivers but made it and landed safely. Meanwhile his wife, back in Wheatley Hill, had received word he was missing presumed dead. What rejoicing there was when the next information received said," Safe and well, love George." he spent the rest of the war in India and I met my father for the first time since I was a week old, I was then almost five. From Enid Heron (nee Poulson)
---
Jim Goynes
Jim was born in Wheatley Hill and eventually ended up in Vancouver Canada. He died suddenly of a stroke in 2005. He had been a member of the Vancouver Welsh Men's Choir and was one of it's founding members. He had a younger sister Mary and he was the nephew of Ernie Goynes who was killed in the Easington pit disaster in the early 1950's. The following link takes you to Jim's biography page of the Choir and gives a greater detail of his life. (Allan Fulcher found Jim's biography on the web and passed it on to me for the web page)
http://members.shaw.ca/vwmc/bios/JimGoyns/
---
John George Oldham - Allan Fulchers grandfather, who used to play cricket for Sutton Town Cricket Club in Nottingham and was recruited by the colliery manager at the turn of the century because of his cricketing skills.
---
Edward (Ned) Ward - I had a couple of e-mails from Allan Fulcher and Barry Fulcher to let me know that Edward (Ned) Ward had passed away (30th January 2007). I only have one photograph showing Ned in a 1949 school photograph sent by Jim Robinson via Allan Fulcher.
I was in Ned's class in the early 1960's. He will be remembered by many lads for his usual remark when ordering anyone to the front of the class for a caning....'You Blithering Idiot'. I missed out on a caning one time as I had cut my fingers on both hands from a tin. He had checked both hands to see which one he could use and in disgust told me not to let it happen again. He was a tough disciplinarian and we will all miss him as he helped to mould many a lad. I often used to see him at The Tavern where he drank and once told him that I wouldn't be the person I had become without his help. He was the head teacher when I was there but went on to become the Head Master later.
If anyone has any more stories about Ned that I can use please send them along and I'll combine them into this biography section, he has shaped many lives over the years.
---
Cedric Walker - A lad from the village who went into the RAF during the Second World War and started to write Science Fiction short stories after the war. Check out the link to read his autobiographical sketch.
---
Harry English
Harry's daughter has sent me a copy of Harry's autobiography.......details below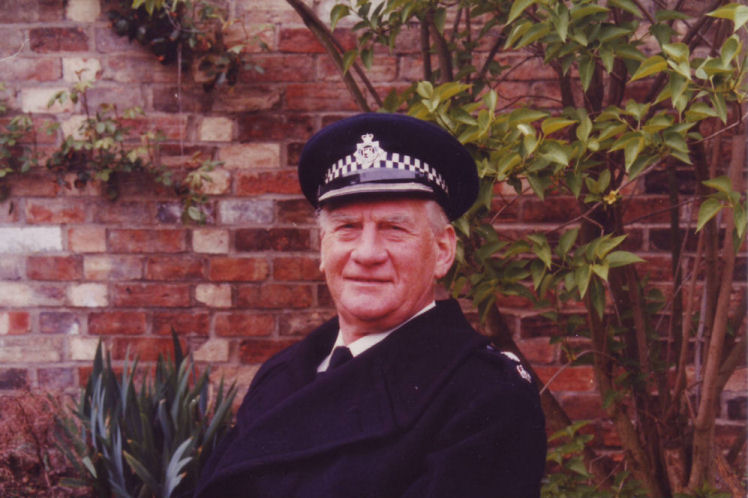 Chapter One - Family and Early Days
Chapter Three - Leaving the Nest
Chapter Five - Demob and Police
Chapter Eight - Inspector and Staff Officer
Chapter Nine - Command Course and Chief Inspector
---
John Worthington
John has written an autobiography called "Some Memories of Mine" and I'll be adding chapters every month similar to Harry's autobiography above.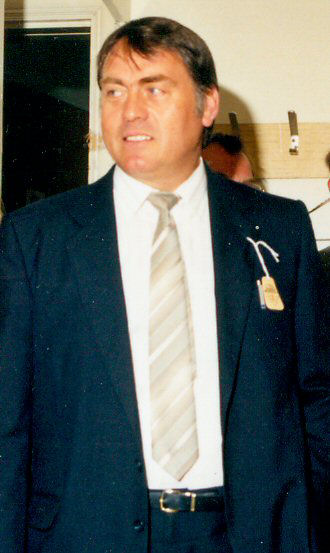 Forward and Chapter 1 Arriving on the Scene
Chapter 5 - Leaving Junior School
Chapter 6 - Going to Wellfield
Chapter 7 - Starting Work as Apprentice
Chapter 10 - A House of Our Own
Chapter 11 - Teenage Years with the Lads
Chapter 12 - Life Begins at 40
Chapter 13 - Doing Something Different
Chapter 14 - Which Way to Turn
Chapter 15 - Becoming the M.D.
Chapter 16 - Major Health Problems
More to come next month
---
The Bannister's Journey to Wheatley Hill
I received the following from George Bannister on his families ties to Wheatley Hill. Not a biography but a family journey from Norfolk to Wheatley Hill with all the bumps on the road of life.........Link to Journey