Forward
Telling stories or experiences about oneís life isnít something new, I expect everyone my age can remember sitting around coal fires being told or telling tales of the good old days, passing down experiences and getting a laugh or two helped put in many an entertaining evening. .Nothing beats a good tale. It doesnít seem to happen very often these days; families seem to be more interested in television, but having lately been encouraged by my granddaughter Faye and remembering some years earlier by my late brother Winston Iíve decided to write down a few of my own personal experiences and memoirs for posterity. Nothing good or bad lasts forever and Iím sure if anyone cares to sit down and think their lifetime experiences through they would have some strange tales to tell.
My father told me that when he was young aged about 6 he lived at Ludworth and one day word quickly got around that a man had done away with himself, so my father and some other children ran to see the man who had hung himself in his own garden shed.
I came across confirmation of this story while reading a book about Thornley, Ludworth and Wheatley Hill Collieries produced by the History Club. Page 268. It was reported that John. W. Gibbons a miner of Overmanís Row Ludworth was found hanging in a shed in his garden. This report was dated July 1908.
My wife Violet has been my rock in life, standing by me through grave illness and many other trying times. Iím very proud of our two sons Ian and Paul and of course their wives Joy and Andrea and our four beautiful grand† daughters, Gemma, Faye, Bethany and Katie who give us endless pleasure but at times concern and worry, but thatís life.
Chapter 1
Arriving on the scene
<![if !vml]> <![endif]>
I was born 10th Nov.1940 during the 2nd world war and was the youngest of nine surviving children [Helen died at 3 months]
Mother Hannah [nee Kell] born 1900 and my Father John William born1902, had five surviving girls and 4 boys all born at approx.2 year intervals and we lived in a council house in Burn street, Wheatley Hill but moved to another council house at 26 Wheatley Terrace, Wheatley Hill when I was only 2 weeks old. (Both houses have since been knocked down.)
At that time George was16,Sylvia 14, Jean12, Nancy10,real name Hannah which she didnít like so she changed it, Alice 8, Olive 6, Winston 4, Frank 2.† I might add at this time that all of us grew up, married, had children and not one of us has divorced or re-married.
26 Wheatley Terrace was a large semi-detached Council house with 4 bedrooms but it only had one toilet which was outside. Only one PÖ pot was in use and that was under my fatherís side of the bed. My Mother used to empty it on a morning rather begrudgingly, especially if it was quite full following a weekend night out at the New Tavern. There was only one tiny bathroom with a bath and hand basin. Hot water was difficult to maintain because of an inefficient coal fired back boiler and during winter weather the water pipes regularly froze up causing all sorts of problems I now wonder how we ever managed. Strips of newspaper were the order of the day, thank heavens for the Daily Herald and Durham Chronicle.
The oldest child in the family was George who at the age of 14 managed to get a job at the local colliery; he removed his spectacles before his interview as he thought this would give him a better chance of getting a job. George also joined the Home Guards.
I never met Grandparents Kell who lived in Lampton Street, Sherburn Hill. Grandmother Kellís maiden name was Hepburn. she died very young in 1907 aged 31 leaving 4 children, William, Harriet, Hannah and Joseph who was killed in the first World War, Grandfather Kell was a member of the colliery band and played the trombone.
<![if !vml]> <![endif]><![if !vml]>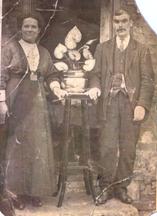 <![endif]>
<![if !vml]>
<![endif]><![if !mso]>

<![endif]>

Grandad & Grandma Worthington

<![if !mso]>

<![endif]><![if !mso & !vml]> <![endif]><![if !vml]>
<![endif]>

Grandad Anthony and Grandma Alice Worthington [nee Winstanley] lived in a colliery house in 6 Darlington Street, Wheatley Hill. I have a Photograph of them standing outside their back door posing with a planted pot, which is resting on a three legged stand; they wouldnít have had many possessions.

My Grandmother Worthington died in 1931 aged just 50 and she had 9 children 7 boys and 2 girls. We have a photograph of her when she was about 40 years old.

<![if !vml]> <![endif]><![if !vml]>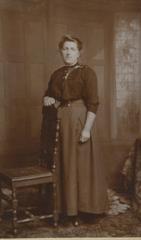 <![endif]>
<![if !vml]>
<![endif]><![if !mso]>

<![endif]> <![if !mso]>

<![endif]><![if !mso & !vml]> <![endif]><![if !vml]>
<![endif]>

I might add at this time that my mother had another son before she met my father called Joseph Kell who lived with his grand parents after she married. He was given the same name as her brother Joseph killed in the first war.

Joseph now in his late eighties lives in Huntingdon. He married an Italian girl called Bianco whom he met whilst serving with the military police just after the war, they had three lovely children Sandra and Frank and Margaret. We barely keep in touch nowadays, only family deaths provide a communications bridge having said that our immediate families donít exactly live in each otherís pockets.

The winter of 1940 - 41 was very bad and instead of waiting for the weather to ease my mother decided to have me dedicated by the Salvation Army who happened to be playing Christmas carols in our street, The S.A. Captain Iím told came into the house and carried out the dedication, Iím the only one in the family who wasnít churched. If I had been would life have been any different? ďHow did I dare go on the chapel trips to Har,t not being baptisedĒ I didnít know, I only found out some years later when I was to be married ,the vicar at Violets home church in Ludworth enlightened me on the subject. The Chapel that had organised the annual sea-side trips ceased to function and closed about1960 and was turned into a small factory unit making anoraks, it later ceased production and was demolished to make way for a couple of bungalows. At one time there were 4 places of worship in Wheatley Hill, now there is only one. In a different light there used to be 6 pubs/clubs and now there are only 2 and both of those are now struggling.