CHAPTER 9
-COMMAND COURSE AND CHIEF SUPERINTENDENT-
In 1970, I applied to go on the Command Course at the Bramshill Police College and was accepted. It was for 3 months and I did not enjoy it as I was still on medication for cancer. My wife, over the years, had a medical problem with nocturnal epilepsy, which was very distressing and frightening for both of us. It was controlled with medication until the doctor said 'You have not had an attack for years, I don't think you need any treatment'. Wrong – she did. While I was at the college, she had an attack and hurt herself on the bedside furniture. As it happened, one of my daughters, then 19 years old and at college, was at home and heard the usual cry. She informed me and I had to leave the course for a short while and return, on tenterhooks, once my wife was back on treatment.
<![if !vml]>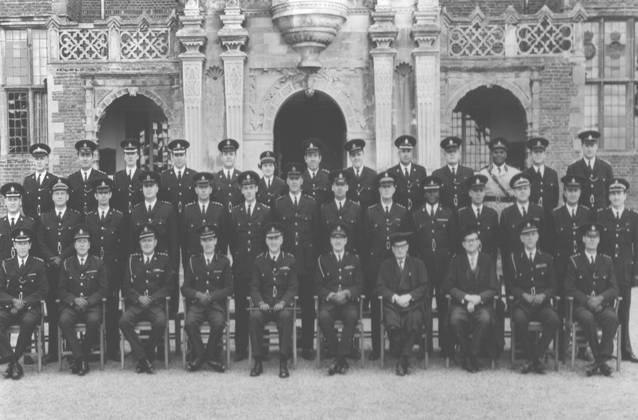 <![endif]>
Command Course Bramshill 1970. H.E. 2nd row, second left
I completed the course and was promoted to Chief Superintendent and posted to Divisional Commander of the Traffic Department, of which I had considerable experience.
At this time, further amalgamations were taking place, and Middlesbrough police, having expanded to Teesside – again expanded to take in more of Durham County Constabulary and North Yorkshire to become Cleveland Constabulary.
The expansion coincided with more support from the Common Market and major developments taking place on the roads and in industry.
 I was one of a number of senior officers who was sent to Hamburg to study the River Police activities and surrounding area problems. As a diversion we were taken on a visit to the notorious Reiperbaum district. We reciprocated later by showing them the Teesside Port and Major Chemical Complex.
<![if !vml]>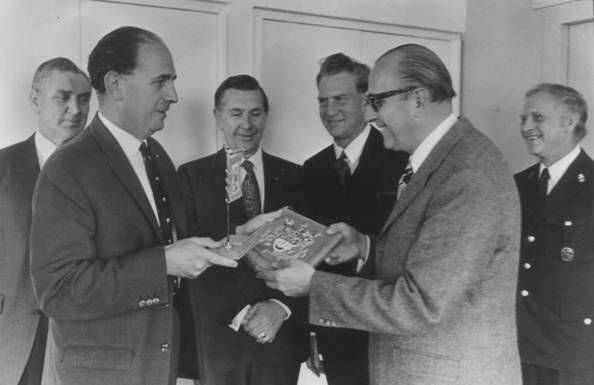 <![endif]>
Visit to Hamburg 1974
All senior officers had to investigate complaints against the police and apart from my normal allocation of Cleveland cases, I was the only officer to be sent to other forces at the request of various Chief Constables. I went to Yorkshire North Riding, Hull and Leeds, to investigate complaints, usually assisted by a Detective Inspector. Reports were submitted and the various Forces decided on their outcome. As Traffic is a specialist post, each time I returned, it was to a considerable amount of paperwork!
I was having frequent checks by the original consultant who, on one occasion, left me lying down while he went to see other patients in the hospital. After a while, I asked what was happening and they said he had gone home to lunch. A nurse took my blood pressure as being 220 and wanted to put me in a bed. As I had a police car outside, I went home and came back later. The consultant arranged for me to be put in hospital for a week to try and improve the situation but he was not able to do so. Eventually, he said to me 'Your duty level and your many hours of work with little time off are such that I would not like to be responsible for your future'. He said he was going to recommend to the Chief Police Medical Officer that I go off on a medical certificate. I had done over 30 years in the Service, so was entitled to a pension in any case. The Chief Police Surgeon examined me and agreed.
It was a wise decision I think. I found out afterwards that the Chief Constable and three other Senior Officers all died within a very short time. Although I was only 51, and had been on the Command Course so could expect further promotion, it was a question of discretion being the better part of valour. I left the Cleveland Constabulary with the rank of Chief Superintendent in 1976, never to return.