I copied the following from a picture in the Constitutional Club. It showed the following picture of Johnny as well as the text of a letter below.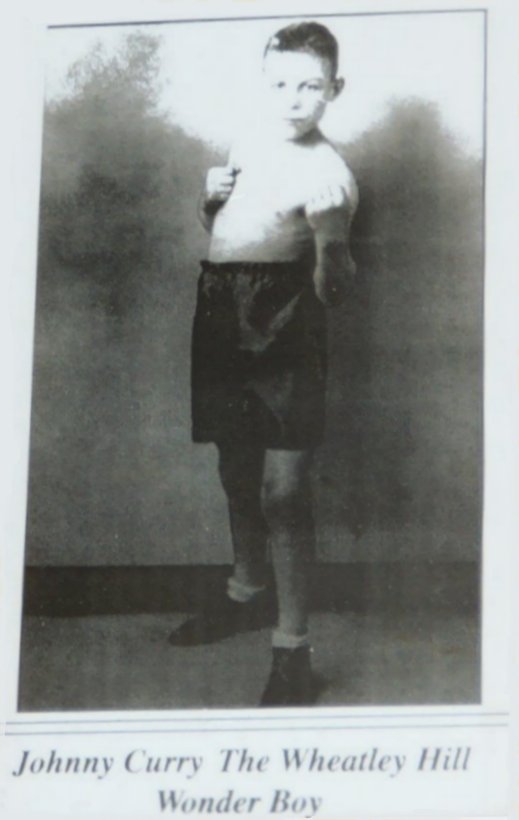 Johnny Curry
31 Henderson Ave
Wheatley Hill
Co Durham
I LOVE BOXING
I was born on 14th October 1920. My first professional fight was on Friday May 15th 1932, against George Stoves of Seaham at Seaham Miners Hall. I won on points over 4 rounds, I was 11 years 6 months old, and got 5 shillings (old money).
My brother Charlie and I were always known as Pat Gorman's nippers. Pat was great, he told us to defend ourselves at all times, left hand first cover yourself and then attack underneath the body. Your opportunity would then come for a lovely left or right hook.
Charlie and I boxed in Belfast 4 times. My first fight in Ireland was against Jackie Campbell of Belfast at Chappersfield Arena. I was beaten on points over 10 rounds. The last fight of my career was in 1938 on my 18th birthday. I lost in the 9th round with a cut eye at Albion Road, North Shields. On the same bill Tommy Smith of Sunderland beatGeorge Smith on points, the referee was Tommy Watson of Newcastle. My cut eye needed stitches at Sunderland Eye Infirmary. I was told not to box again.
However it is in my blood, and in 1947 I decided to make a comeback. My comeback fight was at Darlington Baths Hall and I won on points over 8 rounds. I then had 3 more fights winning them all by a KO in the 1st or 2nd round. I beat Johnny Smith of Clydebank in 2 rounds ( He was the lightweight Champion of Scotland). I fought top of the bill at Horden Workingmen's Club, open air, against Wally Simpson of Thornaby and KO'd him in the 1st round. He never boxed again.
I also boxed at the Engineers Club open air, 6 times, winning 4 and losing 2. My last fight was against Sergeant Bert Gordon of Bridlington where I got a cut eye in round 9. The doctor told me not to fight again.
My favourite fighter was Joe Louis, the best there's ever been. He fought at 13st 10lb. Now Heavyweights are 17 or 18stone and seem to cuddle each other. Also my brother Charlie was a lovely boxer. He fought Ronnie James of Swansea at Maestag. He got a cut eye like me in Round 9, but had been a winner all the way. Ronnie said Charlie Curry was the best boxer he had ever met. A month later Ronnie beat Eric Bay Boon or Chartemio for the British Title.
That's it,
Johnny Curry
The following poem was written by Johnn Curry some years ago. John Etherington used it in his book 'Our Patch Part Two OUR PROUD TRADITION People and Village Life' without knowing that Johnny had written it. John said as a postscript 'I don't know who wrote this poem. It seems to me to sum up 'the old days' so well that I felt that it should be included in this book. My thanks to the unknown poet'.
MEMORIES
We met, and we married a long time ago
We worked for long hours when wages were low;
No TV, no wireless, no bath, times were hard
Just a cold water tap and a walk down the yard;
No holidays abroad, no carpets on the floor
We had a coal fire, and we didn't lock doors;
Or children arrived, no pill in those days
And we brought them up, without any state aid;
They were safe going out to play in the park
And old folks could go for a walk in the dark;
No valium, no drugs, no LSD
We cured most ails with a good cup of tea;
No vandals, no muggings, there was nothing to rob
We felt we were rich with a couple of bob;
People were happier in those far off days
Kinder and caring in so many ways;
Milkman, and paper boy, would whistle and sing
And a night at the pictures was all a mad fling;
We all got our share of struggle and strife
We just have to face it that is the pattern of life;
And now I'm alone I look back through the years
I don't think of bad times the trouble and tears
I remember the blessings, our home and our love,
And that we share them together "Thank God Above.
The following is a copy of the original poem that Johnny gave to me. It was folded and has had a little wear and tear but still readable.

A further letter from Johnny Curry with information on his football career and some of the lads he used to play football with :-
Johnny Curry
31 Henderson Ave
Wheatley Hill
County Durham
Sunday 24/8/97
I Love Sport
My first fight boxing, was when I was 11 years 6 months, I won on points over 4 rounds , I beat George Stoves of Seaham, I got 5 shillings, old money, my schooldays I played football, for Wheatley Hill School, at centre forward, then I was picked for East Durhams, I was inside right, we had 3 players from our School, played with me, they were Redfurs Cokburn right back, who later got a County cap, then at Right Half was Fred Yuill, and myself inside right, I think that was good for one School. We played against Sunderland Boys, Hartlepool Boys and Crook Boys. We won the League, League Cup, the County Cup and the B & O Shield, 1934 March 1935, as I left School Xmas. I started Thornley pit in January 1935. I never got a medal, but I was pleased they won 4 trophies, I was only down the pit 6 months, my late father got me on at Easington Council, as an apprentice Bricklayer, I got a silver medal for running the 4 mile, our School got 1st , 2nd & 3rd, they were Billy Bluey Gibson. Harry Stogdale and me 3rd not bad for our School, 1934 May Day. But my sport was Boxing, I loved it. I was only 16 1/2 years to 17 years, when I boxed at Chappersfield Arena Belfast, Mrs. Copley was the promoter, she used to give me 1pound to give my Manager, Joe Allen from Hartelpool, over 10 rounds, I won one, and lost one on points, lost 2 cut eye. Me and my brother Charlie Curry went over to Belfast together, I lost 3 times out of 4, my brother never lost in Belfast 14 times he was a lovely boxer, he fought Ronnie James of Wales, he beat our Charlie in the 9th round, a cut eye, a month later Ronnie beat Boy Eric Boon of Charteries for the British Title, Back to me again. I had to retire from Boxing on my 18th Birthday, October 14th, 1938, I fought Billy Swift of Carlisle, I got a cut eye in the 9th Round, at Albion Road, North Shields, I got 9 stitches at Sunderland Eye Infirmary, I missed Boxing, 1947. I made a comeback I won 4 at Darlington Baths Hall, won one at Horden Club Ball Alley, open air, and 3 out of 5 at the Engineers Club Hartlepool open air, my last fight was against Sgt Bert Jordan Bridlington. I retired cut eye again 8th Round, I retired from Boxing for good.