Chapter 8
Getting Married
<![if !vml]>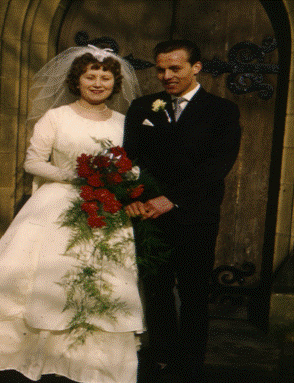 <![endif]>
John & Violet
We got married in March 1962 at Shadforth Church there was a sprinkling of snow on the ground. The reception was at Ludworth and we had our honeymoon in Scarborough near to Peasholme Park, we were taken by car to Darlington Station and went by train to Scarborough. We travelled back on the now defunct Whitby to Middlesbrough line and got the Bus back from Middlesbrough to Ludworth, to live in with Violets Mother, she was a lovely women, in Moor Crescent Ludworth, it was the done thing in those days, most young couples lived in, especially if you lived in the Colliery villages because it enabled you to put your names on the council housing list and wait your turn to be allocated a house.[we didn't know any better, buying houses wasn't encouraged, you'll never get it paid for was the advice we were given].
We had only been living in for about two months when I was called into the Office to see Dorman Longs Estates Manager who came to offer me a company flat; I didn't even know that they had such property. There were four flats situated in a nice area of Middlesbrough, in Cambridge Road, Linthorpe. The rent would be 15 shillings a week. Deducted from wages
The former home of Sir Arthur Dorman had been converted into flats; it was a large detached house with a grand entrance hall, out buildings and huge gardens front and rear. The House next door belonged to the Bishop of Middlesbrough. Our flat was at first floor level, they were all self contained. The flat would help cut down on travel distance and were usually offered to those travelling in from outlying areas on a short term basis say 3 to 4 years. They didn't become available very often. Violet was very happy and we travelled to Middlesbrough to have a look we accepted it and decided to decorate and furnish it to suit ourselves. Our hope was to live there for awhile and then find a place elsewhere depending on circumstances. Violet was pregnant and booked in to Thorpe Maternity Hospital near Easington and she was due the following January. Two of Violets sisters Evelyn and Marlene helped to do the decorating.
We needed some furniture so decided to go to Jacob Clark's furniture shop in Sunderland to tick it on as they say. Violets sister Evelyn went with us on the Bus.
We finished up with a lot of furniture but it all had to be paid for and I nearly passed out after realizing how much debt I was in. We still have the payment book.
Luckily for me I was promoted to sub-section leader draughtsman at the age of 21which was the youngest in the Drawing Office and was now able to work over-time
Ian was born on January 16th 1963 in Thorpe Hospital, I travelled on the Bus to see them and met our Winston whose wife Pam was also having a baby, Roland Boyes's wife was also in there. Rolly was to become the future Houghton –le Spring M.P. He played Rugby at Houghton with me as did Jack Dormand, later to become   M.P. for Easington and later Lord Dormand. I occasionally played cards and socialised with them and others on a Saturday after noon after the Home games
            When I moved to Middlesbrough I stopped playing for Houghton and instead played and captained the Technical Colleges at Stockton and for a short while played for Constantine College.
Violet and me at weekends were often a little homesick and would at the last minute grab a few things including Sunday's meat and with our little Ian make our way on the bus back to Violets mothers at Ludworth. After the weekend I would go to work early on the Monday morning and Violet would go back to Middlesborough on a later bus.
This was our pattern of living for the next couple of years. Sometimes members of our family would come to stay with us for a couple of days; after all it was just an hour's bus ride away.
We did have a few friends in the flats and got on well with other works friends and had the usual social outings. I became a member of the R.A. Club Middlesbrough and Violet and I would go on a Saturday night when we could get a baby sitter for Ian.  
I occasionally did private work one job in particular was for a self made millionaire called W.G.Thomas who had a Road Haulage company. He lived at a property called The Grange which was in Glaisdale North Yorks. The job was to extend and alter the lodge cottage which was in the grounds of his estate. After completing the job I went to see him to get my fee which was fifty guineas (a guinea was 21 shillings) we were told by our mentors to always quote a price in guineas as this was more professional and it gave you an extra 5%. Mr Thomas paid me out of his petty cash box £75 saying there is a little extra for your troubles I returned home absolutely delighted and said to Violet what would you like to buy and she said I think we could do with a new frying pan.
On the 20th August 1964 my Father died aged 62; he'd had a heart attack two weeks earlier and lay at home until the end. I thought at the time that he was an old man and I would have to live another 38 years to be as old as him. It would be a far different story today, most probably the treatment available today would have saved him and given him a chance of living a lot longer Now I feel very angry to think that he was fully conscious and talking right up to his very end. He wasn't even taken to hospital we were told nothing could be done. His death was a shock to my mother and she was now on her own. All of the family had married and left home. After the Funeral we went back to Middlesborough and were just coming to terms with our bereavement when on a Sunday morning in November there was a knock on our door. It was a policeman delivering a message [we didn't have a phone in those days] the message was from Violets sister Evelyn, her husband George had died of a heart attack on the Saturday,
He' ad complained of a chest pain gone to bed and sent for a Doctor who thought it was probably indigestion and left him to recover. He died shortly afterwards. This news shook Violet and me and we quickly gathered up a few things and headed back to Ludworth. George was the man who had given me a few words of comfort when my father died in the August of that year and I can recall having a trip to the sea –side in September with him, Evelyn and the kids and everything seemed fine. You just don't know what's around the corner;