Michaels eldest brother Terry is shown...last on the back row. I recognize Terry Hoban, back row second from right.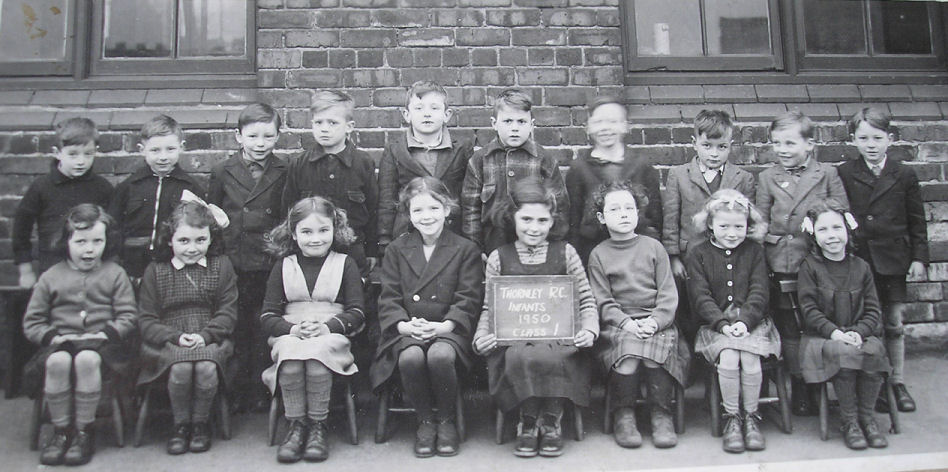 Again Michaels brother Terry is shown in the Baldasera Cup wining team of 1953-54. Terry Hoban...front row on right next to teacher.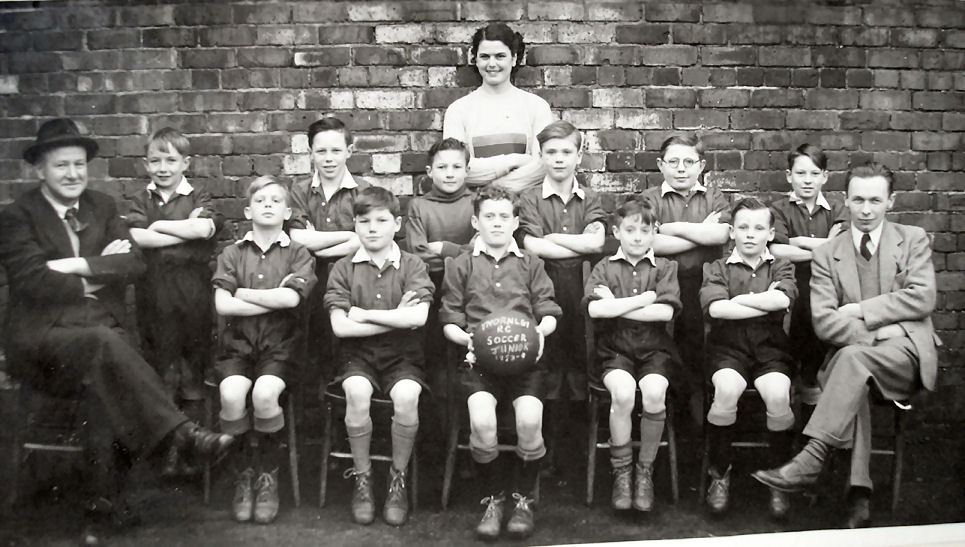 This is a Choral Society picture c1950- Michaels brother Terry is 4th boy sitting from the left. Terry Hoban on left dressed in tuxedo.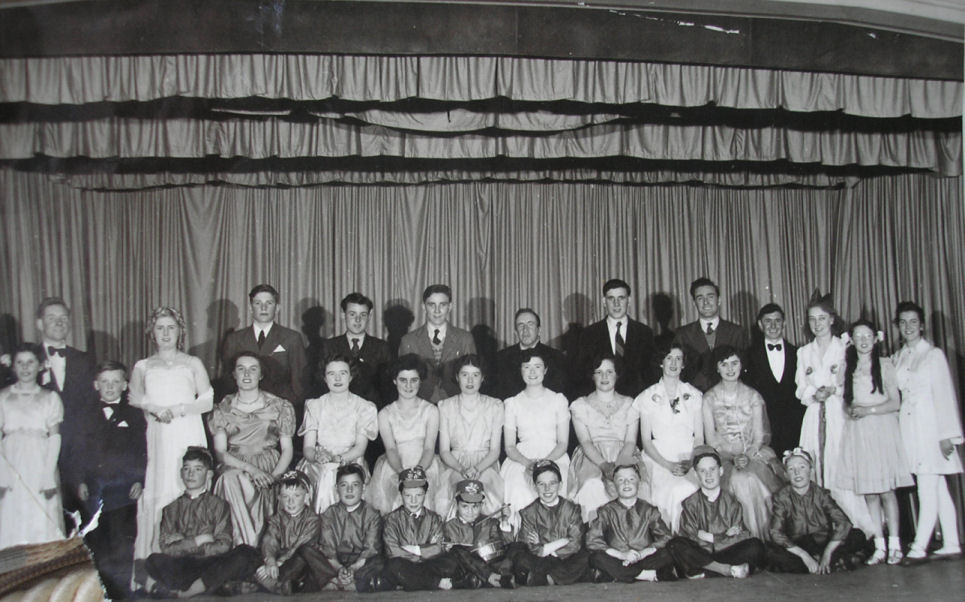 The Choral Society again- Michaels brother Terry Smyth 4th from the left. Terry Hoban 2nd from left.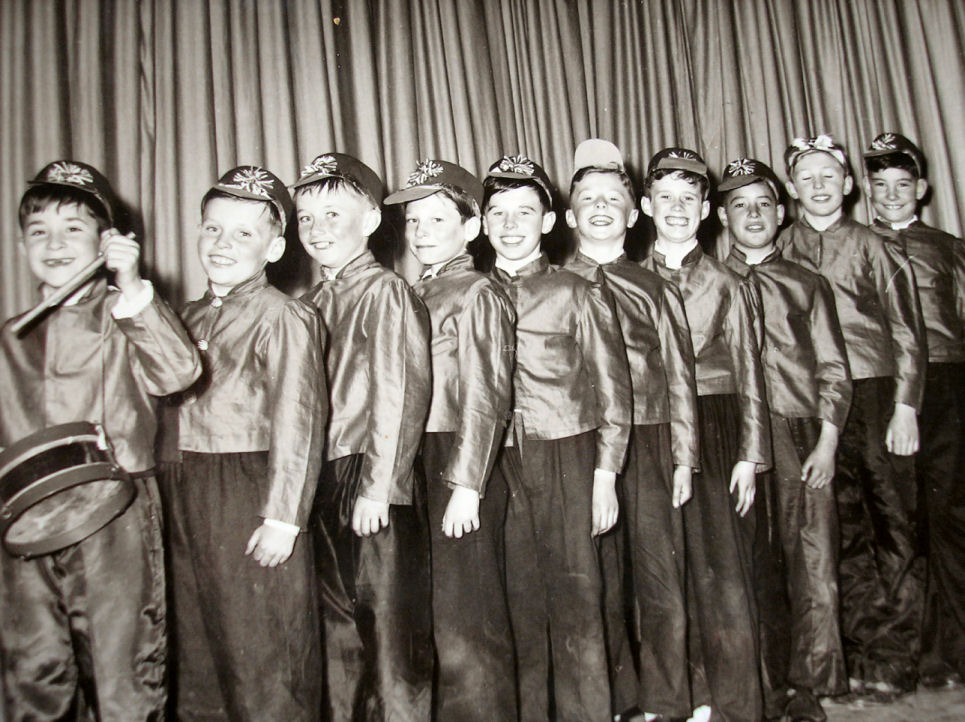 Wheatley Hill St Godrics Football Team c1950. Again one of my dad's photos- he is 4th left on the top row.
Names as best as my dad can remember starting left to right are
Joe Wilson, Dicky Bell, Dougal Bell, Tommy Smyth, Jimmy Hoban, Matty Heppell, Tommy Bonar, Billy Grainey, Mick Hoban, Billy Craggs, Tommy Bower.
Players: Matty O'Brien, Tommy Filon,?, Jimmy Darby,?,?, Jackie Johnston, Matty Taylor, Charlie Bonar, 'boxer' Niles, Bobby Conway, Brian Wilson- the councilor in Thornley for many years.
Sitting, ?,?, Jimmy Hoban-boy, Frankie Smith?, ?.
Update from Jim Luke......players sitting front row far right, is Felix Slack from Station Town who Jim thinks still lives there. Next to Felix is Harry Huntington from Shotton who now lives in Peterlee.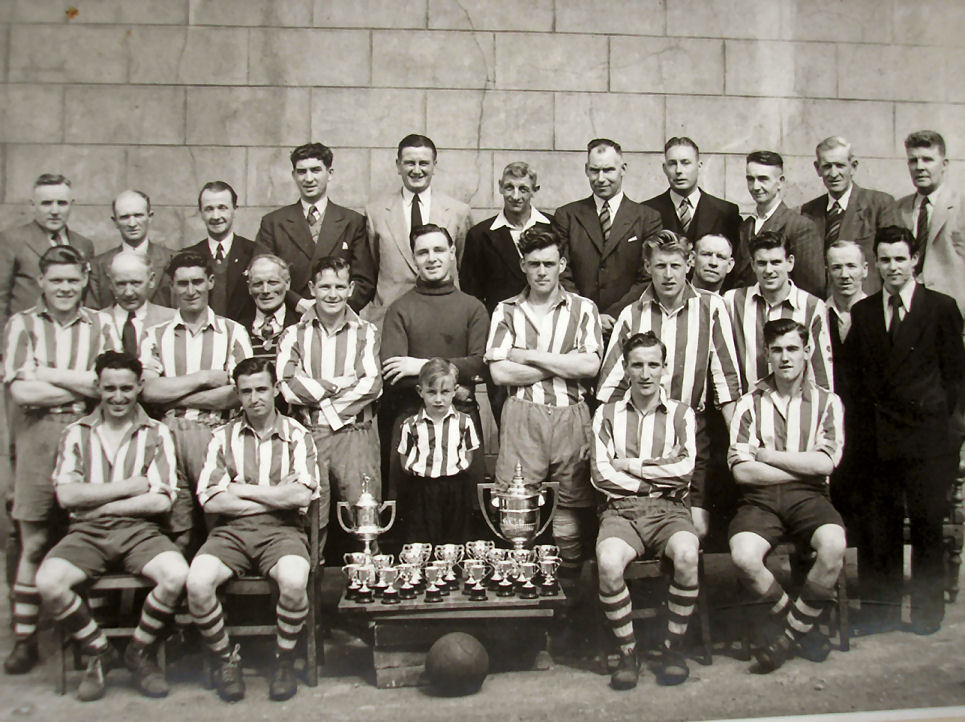 Dr. Burdis who was the local parish priest- this must have been a WW1 photo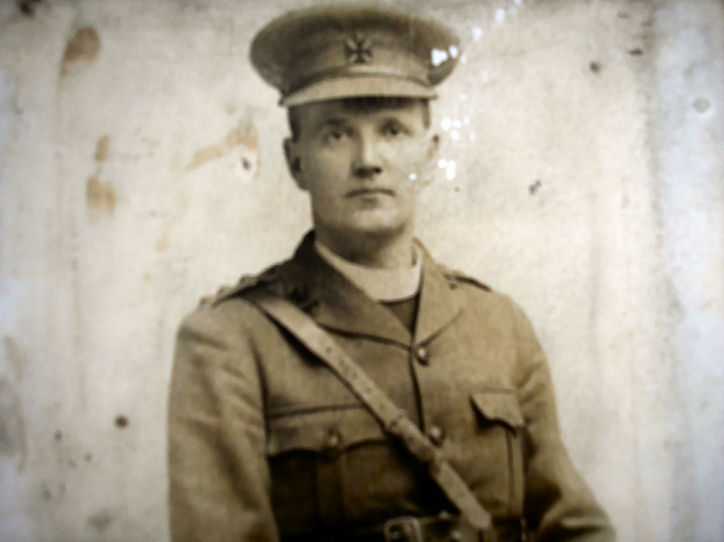 Michael's 1st Holy Communion Day- I also attended St Godrics. This would be about 1963
Stephen O'Brien- tragically killed shortly afterwards walking home to Thornley by waggon way- many walked through the pit yard and had to cross a coal line, Phillip , Joseph Lennox, Robert Lennox, Mike Smyth (me), Nigel Wallace- doctor's son, Peter Dunn, Gordon Bridges.
Girls,?Hunt, ?, Maureen Hoban, Lynn McCoy, /,Margaret McDonald.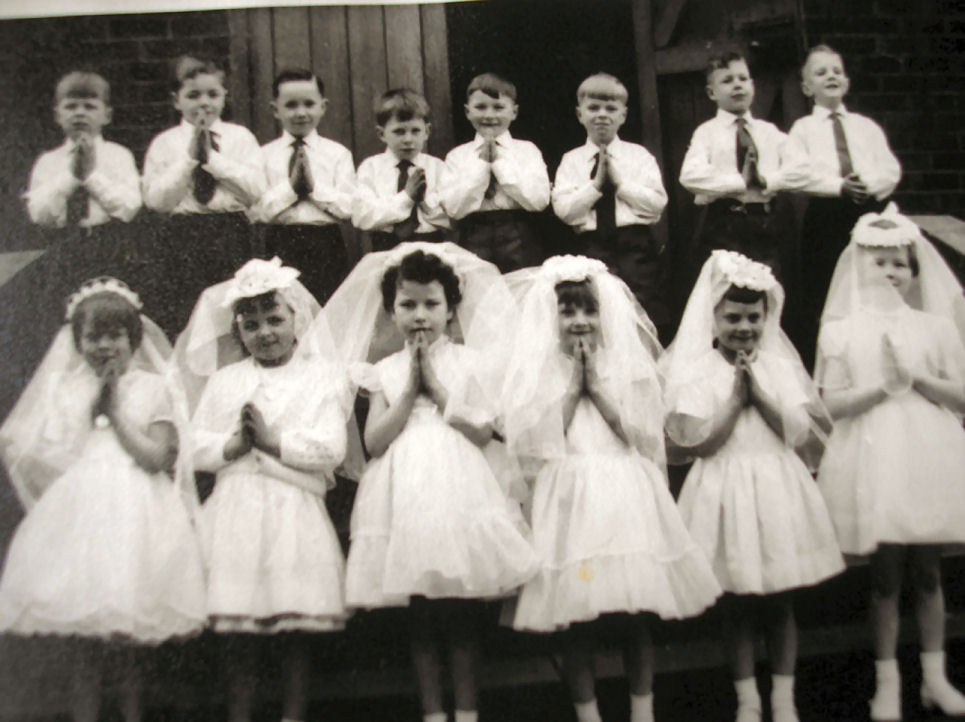 This one of a series taken at a meeting in the pit offices shortly before closure. Pictured left to right and full face are Tommy Smyth (my dad), Jack Robson , Alf Carr and ?- I didn't get the 4th person's name.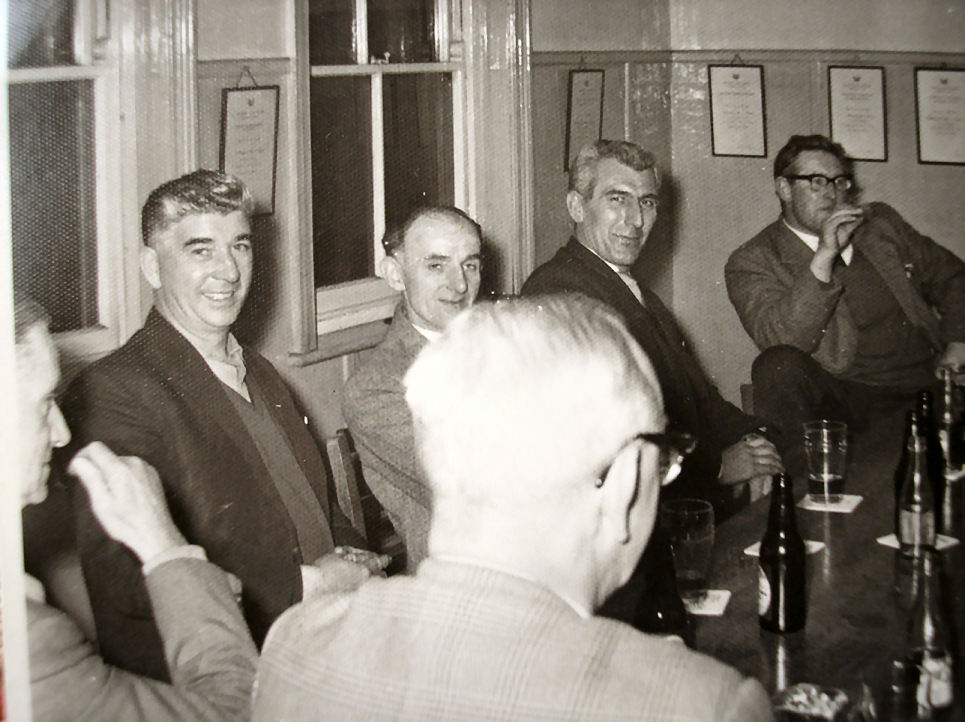 These photographs are from Jim Luke via Allan Fulcher.
This one shows the Thornley RC School 1950
Back Row Left to Right :- Jean Baldersera, Billy Carr, Terry McCarroll, John Dunn, Brian Derby, Brian Ashford, Billy Morton, Monica Durkin.
Front Row Left to Right :- Pat Smythe, Kitty Stephenson, Rita Ellwood, Mr. Finnerty, Alice Ryan, Nancy Ellis, Mary Lister.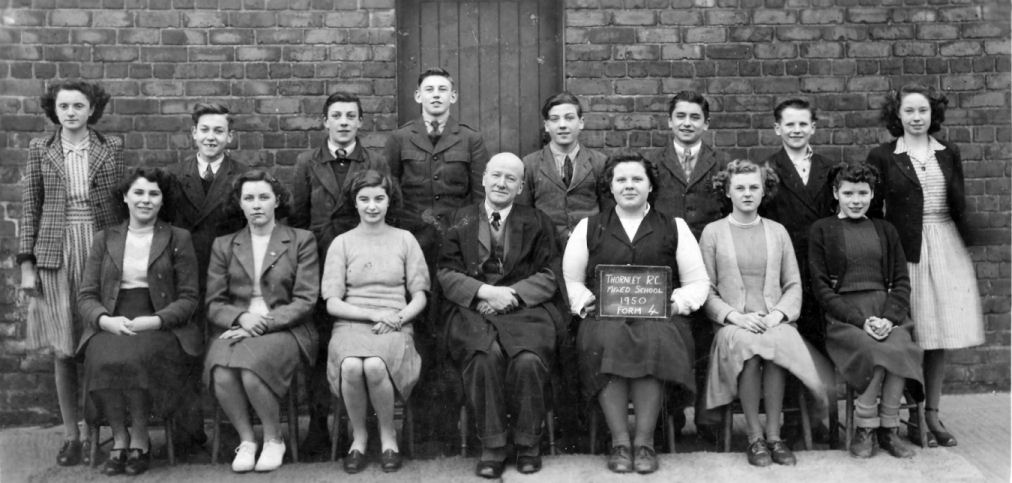 This one from Jim shows Thornley St. Godricks School 1947
Back Row Left to Right :- Brian O'Connor, Terry McCarrol, John Dunn, Brian Ashford, Billy Ridley, Walter Mangles, Billy Carr, Eddy Derby, ? Richardson, Tommy Cain, ? Mulligan.
2nd Back Row Left to Right :- ?, Henry Barron, Ann Quinn, Alice Ryan, Maureen Dodds, Isabel Luke, Marie Mitchell, Kathleen Regan, Pat Smythe, ? Adamson, Brian Ellward.
3rd Back Row Left to Right :- Nancy Ellis, Joan Waller, Jean Baldersera, Kitty Stephenson, Mary Harold, Margaret Hoban, Rita Ellwood.
Front Row Left to Right :- Sidney Swallow, Maureen Charlton, Pat Carr, Mary Lister, ? Jones.