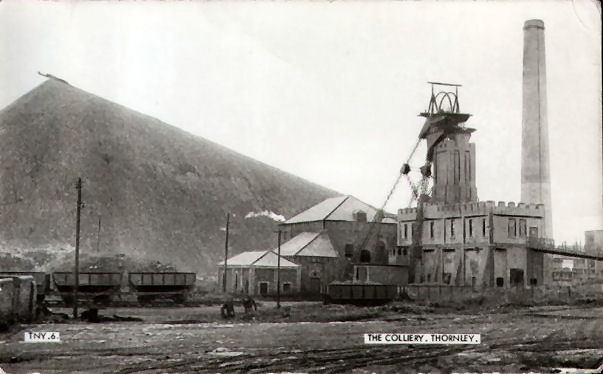 VILLAGE HISTORY - I receive two documents on the history of Thornley. The first is a thesis done by Gladys Moody (used with kind permission of Gladys) and given to me by Alistair Mills who lives in Canada. The second document is similar to the thesis done by Gladys but has a lot more detail on the coal mine in it. Allan Fulcher's wife Liz (a school teacher) obtained a copy from a teacher friend who had a pupil that had been given the assignment of researching the history of the village where he/she was from. The result is the attached document. In both cases we can enjoy the work that they both did as they seem to complement one another. (Please note that the thesis document is rather large, 13 Mgs and may take some time in loading) Articles from The Times from Jeanette Hardy.
Waterloo Street Methodist Church 1838 - 1948 Souvenir brochure from Colin Davies who used to live in Thornley but now lives near Birmingham. He found the brochure in his late mothers mementos. Colin's father was William (Bill) Davies who used to be an overman at Thornley Colliery. Bill took redundancy in 1969 and went to work in the Aladdin flask factory in Hartlepool
Article dated 5th Feb 1995 from Horden Independent Methodist Church Magazine written by W. Dowding, Sent by Alistair Mills
THORNLEY PHOTOGRAPHS YESTERDAY AND TODAY - I have added this section not to take away from anyone who may have created a web page for Thornley but to show the close links that Wheatley Hill has with Thornley over the many years. Wheatley Hill was part of Thornley parish at one time. I worked at Thornley Colliery as well as my father and many other Wheatley Hill men too. On the other side of the coin many men from Thornley worked at Wheatley Hill Colliery. The school children that didn't go to grammar school from Thornley went to the Secondary Modern Schools in Wheatley Hill so there was a close bond with the pupils at the schools. Ian Worthington has just constructed a web page for Thornley at the following web site. http://mysite.freeserve.com/thornleydurham
MAPS OF THE VILLAGE - Maps of the village from different time periods courtesy of Alistair Mills showing years 1856, 1897, 1919 and 1939 maps.
PIT INFORMATION - I receive a couple of document on Thornley Colliery and have transcribed them.
DURHAM BIG MEETING PHOTOS 2013,2014 and 2015 - I receive the following links from Roger Hancocks who's wife plays in the Thurcroft Welfare Band. A friend of mine, George Bannister who is originally from Wheatley Hill but lives in Woodsetts close to Worksop in Nottingham met Roger some time ago and mentioned that he was from the North East. The conversation went around and around and lo and behold Roger told George that the band had played the Thornley Banner in to the Durham Big Meeting the last few years. Roger has taken photographs of the trips to the Big Meeting. What a coincidence and even more so for me as my three nieces are on the 2014 link, one from Truro in Cornwall and the other two from Wheatley Hill...................small world.
New :- (updated 8th December 2017)
Added name on Roy Anderson photograph of Thornley School Photo dated 1950-53 from Ken Orton
Please contact me (David Cook) directly at cooky08054@comcast.net with any feedback on any aspect of the page.